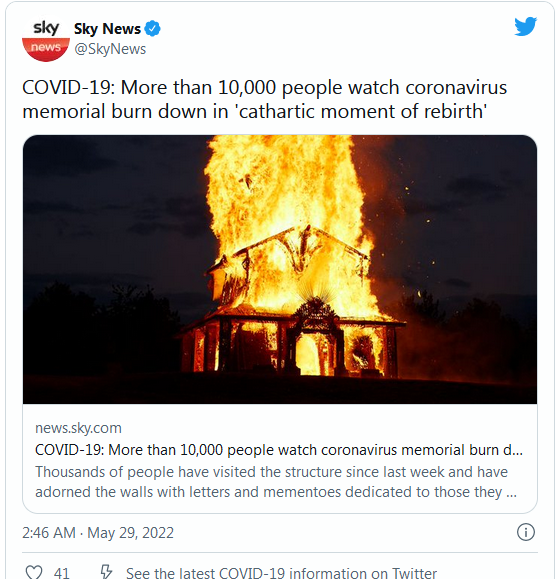 An ornate wooden memorial for Britain's COVID-19 victims has been intentionally set alight in front of more than 10,000 people in Warwickshire.

A group of seven torchbearers including a reverend, and some of the people who worked on the structure, were specially selected to set the structure ablaze.

The 20m-high (65ft) wooden monument, called Sanctuary, was then burned to the ground just a week after it opened.

It had been a tribute to those who died after testing positive for coronavirus.

Artist David Best, who is known for large-scaled intricately carved structures at Burning Man Festival in the Nevada Desert, designed the memorial, along with independent arts company Artichoke, which produced Sanctuary…
Covid was vanishing last Memorial Day.

Now, the United States is recording more than 100,000 infections a day — at least five times higher than this point last year — as it confronts the most transmissible versions of the virus yet. https://t.co/5RXtvqBepB

— The Washington Post (@washingtonpost) May 28, 2022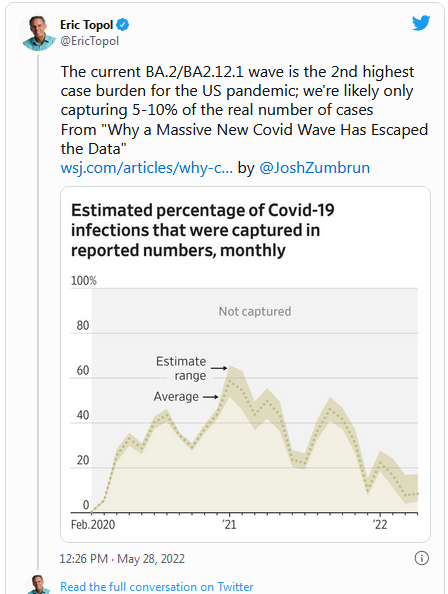 ======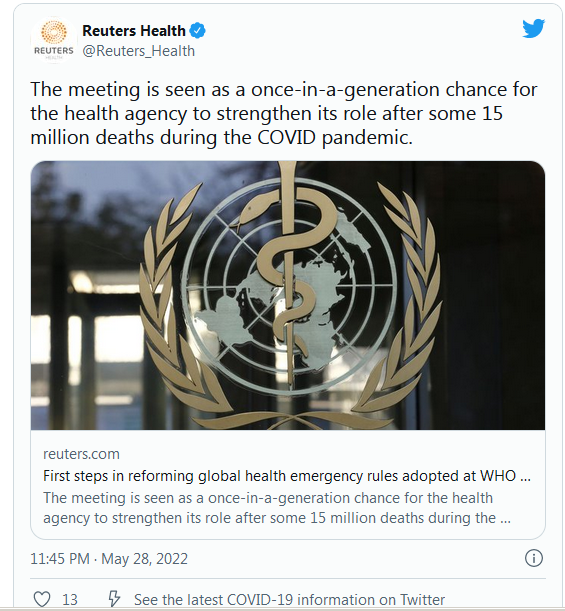 GENEVA, May 28 (Reuters) – Countries around the world on Saturday adopted an initial U.S.-led reform of the rules around disease outbreaks, known as the International Health Regulations (IHR), the United States said…

The breakthrough – amendments to Article 59 of the IHR that will speed up the implementation of reforms – came after early opposition from Africa and others was overcome this week. read more

The changes sought by Washington, and backed by others such as Japan and the European Union, mark a first step in a broader reform of the IHR, which set out countries' legal obligations around disease outbreaks, expected to take up to two years…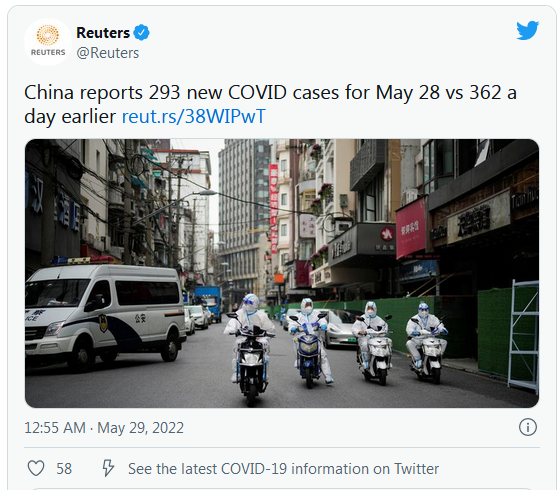 Shanghai takes further steps towards reopening, Beijing eases COVID curbs https://t.co/4Xhz4DLAGE pic.twitter.com/Epl2OVlhQG

— Reuters (@Reuters) May 29, 2022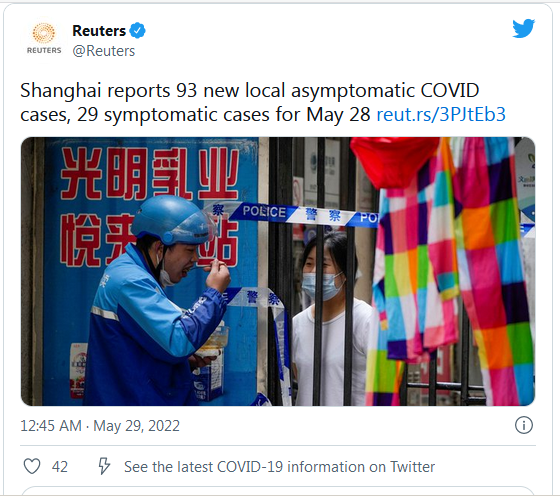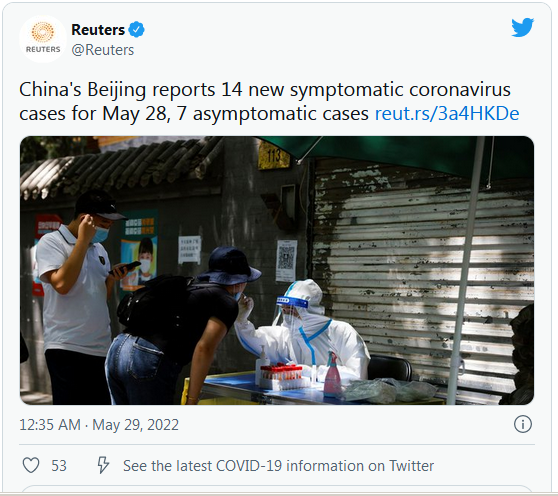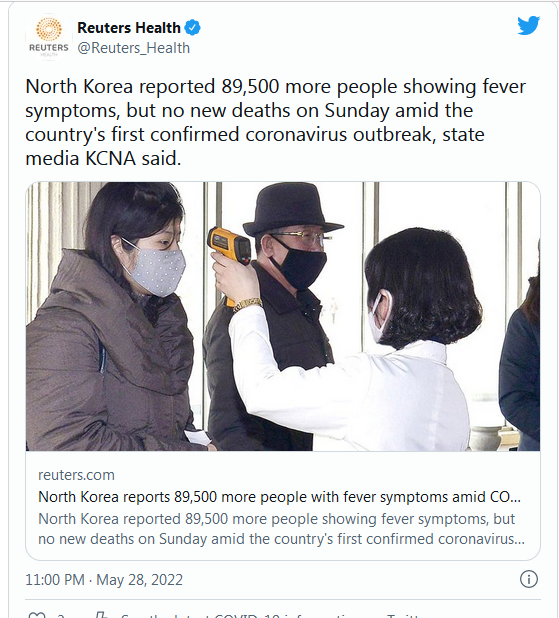 ======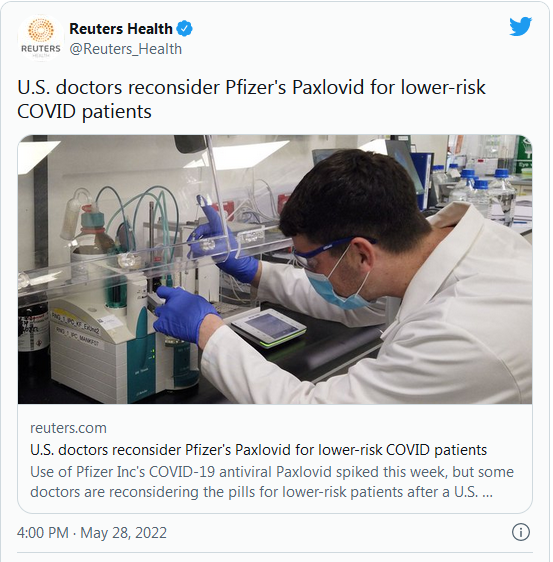 Use of Pfizer Inc's (PFE.N) COVID-19 antiviral Paxlovid spiked this week, but some doctors are reconsidering the pills for lower-risk patients after a U.S. public health agency warned that symptoms can recur after people complete a course of the drug, and that they should then isolate a second time.

More quarantine time "is not a crowd-pleaser," Dr. Sandra Kemmerly, an infectious disease specialist at Ochsner Health in New Orleans, told Reuters. "For those people who really aren't at risk … I would recommend that they not take it."

Use of Pfizer's Paxlovid, authorized to treat newly infected, at-risk people in order to prevent severe illness, has soared as infections have risen. More than 162,000 courses were dispensed last week – compared with an average of 33,000 a week since the drug was launched late last year, according to government data. Biden administration officials have pushed for wide use of Paxlovid, which the government purchased and provides free.

But higher use has also come with more reports from people who say their symptoms eased with Paxlovid only to return a few days after finishing a five-day regimen of the pills…

The CDC also said it is unclear whether cases of rebound symptoms have anything to do with Paxlovid, or are simply part of the natural trajectory of COVID-19. The agency did not flag any specific concerns about health effects.

"COVID historically has had this sort of stuttering course – people will feel better one day and then feel worse the next day, but I can say we haven't seen these rebound symptoms with other COVID treatments," said Vijayan, referring to therapies such as monoclonal antibodies…

"There's so much more baseline immunity around. There's still a lot of infections, but they're not nearly as severe," Northwell's Farber said.

He estimated the rate of Paxlovid-related COVID rebounds at around 10% – higher than the 3-4% rate cited by Pfizer in its trials of the drug.

Jason Gallagher, an infectious diseases expert at Temple University's School of Pharmacy, said the rebounds do not detract from the drug's utility. "It prevents you from going to the hospital … if you become symptomatic after you stop taking it, that stinks, but the overall drug was a success," he said.
Continually updating research on SARSCoV2's genome can boost disease surveillance. Indeed, genome analyses might strengthen global disease monitoring & aid preparedness for new variants, according to a new study https://t.co/sqsRBAgf8I pic.twitter.com/BoVJVuBFPn

— delthia ricks 🔬 (@DelthiaRicks) May 28, 2022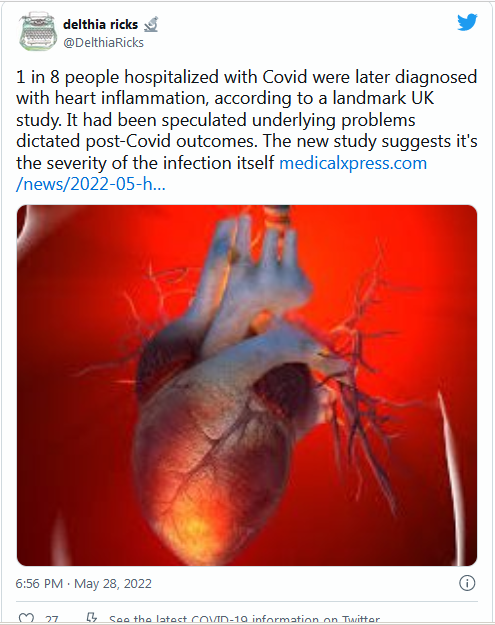 ======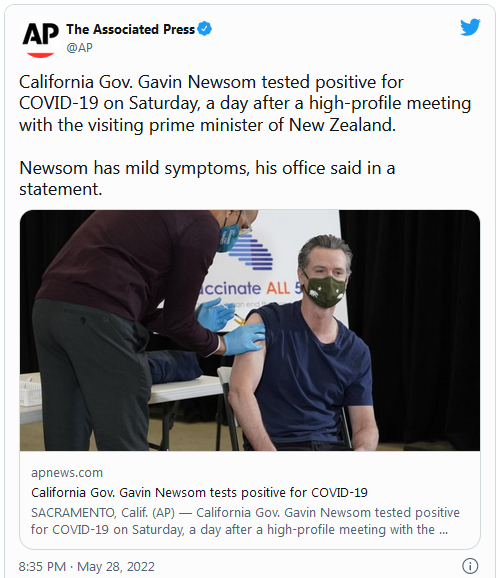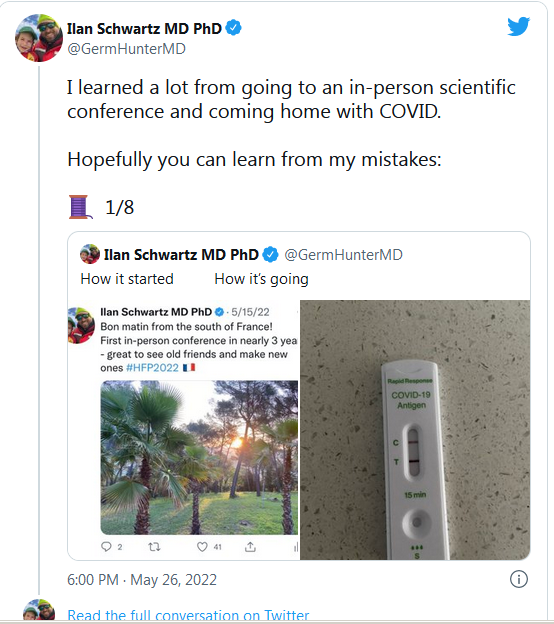 Preamble 1: Conferences are really important in science. They are where we become inspired, collaborations are forged, and spirits are lifted. Virtual conferences don't come close to realizing these benefits. 2/8

Conference attendees have some agency over risk of COVID exposure – eg decisions about masking, attending specific sessions, dining alone etc. But some things are out of your control, & you may wish to know key details to understand risk before deciding to attend: 3/8

1. What is the conference vaccination policy? 2. What is the mask policy? Is masking mandatory or optional during lectures, in poster hall, etc? 3. How will organizers be monitoring and improving ventilation of venue (lecture/poster/dining halls etc)? 4/8

4. Where does dining occur? Don't assume. At my meeting, outdoor dining was not allowed (specifically for conference attendees)

5. Will on-site testing be available? 5/8

6. What is the attitude of organizers AND the venue towards COVID and mitigating risk? If the resort staff won't make accommodations because they believe COVID is over, that's a red flag.

6/8

Other considerations include incidence of COVID at the time of the meeting (hard to predict for most of us), and risks associated with exposure during transit (affected by policies of the airlines etc towards masking, vaccine requirements etc 7/8

Ultimately everyone will need to make personalized decisions based on the perceived risks/benefits Hopeful this thread can help potential attendees to seek the information necessary to inform these decisions 8/8